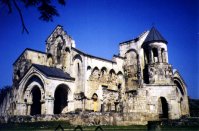 Ruins of ancient cathedral proudly look down the city of Kutaisi from Ukimerioni hill. Bagrati cathedral is hard to miss from city centre. The construction of the Cathedral, named after Bagrat III, the first king of united Georgia, began at the end of the 10th and was completed in the early years of the 11th century. It was partly destroyed by the Turks in 1691, but its ruins remain in the centre of Kutaisi as the remainder of great past.
Message on the North wall of the cathedral still remains intact which reminds us that foundation to the building was laid in 1003. Same time foundation was laid to the Golden Age in Georgia's history that flourished to its zenith during Queen Tamar's reign.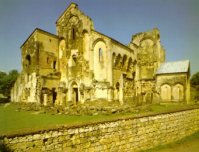 Restoration works of the cathedral have been going on since 1950-ies. West porch of Bagrati Cathedral is erected in the first quarter of the 11th c. It is distinguished by special artistic merits among the structures of this type. Up to the second decade of the 19th c. west porch of Bagrati Cathedral was preserved almost undamaged, as testified by N.Chernetsov's drawing. In 1985-1990 restoration of the porch was undertaken. Preserved details of the porch, and N.Chernetsov's drawing had enabled the specialists to put ornamented stones of the porch on their proper place.
The World Heritage Committee has inscribed Bagrati Cathedral on the world heritage list in 1994.

Browse Bagrati Picture Gallery or Bagrati Slideshow