Places to Visit In & Around Kutaisi
Kutaisi Gallery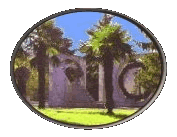 Kutaisi Slideshow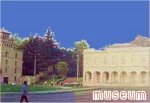 The Kutaisi Museum of History and Ethnography - contains cultural heritage items from ancient Colchis up to XX century. The treasury contains icons, jewelry, procession crosses as well as other artifacts from Gelati, Bagrati, and Svaneti. Museum conveniently located in downtown Kutaisi.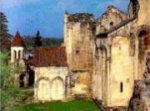 Bagrati Cathedral (10th-11th cc) - Church of the Assumption of the Virgin, built by King Bagrat III in Kutaisi, on the hill of Ukimerion. Marvelous example of the domed-church architecture of the high Medieval period. Was destroyed by Persians.
Read More about Bagrati Cathedral or Visit Bagrati Photo Gallery or Slideshow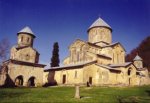 Gelati - the complex comprises a monastery, academy and churches. Was founded by King David the Builder in the 12th c. Was a significant canter of cultural and spiritual life. Monumental paintings are of great importance. The only surviving portrait of King David the Builder, as well as his grave, can be found in the monastery. The mosaic of the Virgin with Child is the pride of the central church.
Read More about Gelati Monastery or Visit Gelati Photo Gallery or Slideshow
Motsameta (8th-11th cc) - monastery near Kutaisi. The brothers David and Konstantine Mkheidzes, the Lords of the region, were assassinated here by Arabs in the 8th c for refusing to reject their Christian belief. Their sacred relics are kept in a crypt of the church. A monastery was built on the site of the church in the 11th c by King Bagrat. Georgian word "Motsameta" in English means "Place of Believers". Not far from Motsameta (in about a mile) there is "Sakazhia" cave where upper Paleolithic items were discovered by archaeologists.




Geguti - the summer residence of Georgian Kings (ruins of a palace near Kutaisi). Hunters lodge with large fireplace dates back to the 8th c. Construction of the residence was continued in the 12th-13th cc. Geguti was the favorite place of David the Builder, Demetre I, George III, Queen Tamar.



Nikortsminda - To the north of Kutaisi, in the hilly Racha region, is Nikortsminda church which was built by King Bagrat III in the 11th Century. Nikortsminda is notable for its stone carvings.




Sataplia Nature Reserve ("Honey-bearing") - Mount Sataplia is an extinct volcano, 9 km to the northwest of Kutaisi. Within it are caves with stalactites and stalagmites, and an underground streams. Concrete paths and lighting enable ordinary people to visit the caves. Paleolithic tools were discovered and fossilized footprint traces of dinosaurs have been unearthed near the cave entrance who passed across the mountainside millions of years ago.




Tskaltubo -13km northwest of Kutaisi is the spa resort of Tskaltubo, notable for its hot springs. Soviet-era tourist facilities include a park with subtropical plants, a history museum, and a restaurant and boathouse at Cold Lake.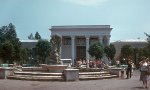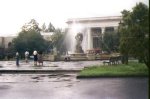 Vani - town of Antiquity (6th-1st cc BC). It is located on a hill in the settlement of Vani. One of the main towns of Colchis stood here, and the Silk Way passed through the region.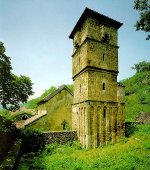 Ubisi - If you happened to be raveling through Western Georgia probably you wouldn't wanna miss Ubisi - a complex dedicated to St. George, which comprises a single nave basilica of the 9th c, a three storied dwelling-tower (a rare building dated to 1141), and other constructions. Ubisi church is well-known for its 14th c murals painted by Damiane. According to the long -established local tradition, the vault and the walls are covered with painting almost down to the floor. The historical and artistic analysis of the Ubisi paintings and the techniques of their executions points to the fact that this monument marks a definite stage in the development of the local artistic traditions as typified by Georgian paintings of the 13th and the early 14th centuries